November 1st, 2021
I Haven't Read Enough Books for an October Book Review!
Last month, I covered all the books I read during the month of August. I must have been a busy boy, since I made it through 5! I'm not sure I'll ever find enough time to get through that many again.
---
But One Good One Is All You Really Need
Lately I've been reading Will Larson's new book Staff Engineer: Leadership beyond the management track.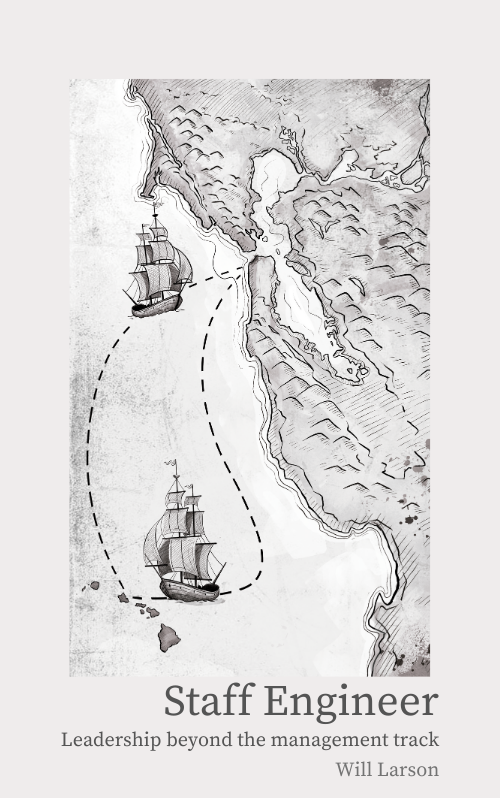 I've always felt like I wanted to level up in my career but never have really had a strong pull towards engineering management. I think I'd probably be good at it, but I'm a huge introvert and it's something I've never done before, and, to me, it doesn't seem like it has as straightforward progression as perfecting your technical chops and ascending the IC ladder. Maybe I'm wrong, who knows? Regardless, Will offers a great perspective about how to progress beyond the level of a senior engineer to what he calls Staff+ (because there are so many different ways to classify upper-level engineers across big tech companies, like Principal, Staff, Architect, Lead, and other engineers).
When I saw the book was coming out, I knew I needed to purchase a physical copy and read through it, even though I'm still only mid-level in my career and don't have a senior title (I'm technically a Software Development Engineer III). I'm using it to put together a 5 (or perhaps longer) plan to start achieving those goals.
It's a great book, filled not only with answers to the blatantly obvious "how do I get there?" question, but also covering the ever-important questions of why to pursue a staff role, what you'll do once you get there, how to navigate and negotiate the interview process, and – possibly most importantly – interviews from other staff engineers about how they attained their roles, what they enjoy, and what they do during their day to day as well.
---
I Might Be Jumping the Gun
Like I mentioned before, I'm not quite ready to make the jump even to a senior level engineer, so it's premature to start planning for a staff or staff+ role right now. But I've never been one to try to stagnate, especially not recently.
I think it's important for me to start exploring where I'll go in the next 5 years, and based on my reading and thanks to Mr. Larson, it seems like this is a good potential path forward.
That's all for now. Thanks for reading!
---
---